Our Strengths



WIDE RANGE OF SERVICES

The Officine Ristori workshops offer to the clientele a vast service that comprehends the engineering of the product, the projecting and the construction of the necessary equipment, the debugging of the same equipment and the control of the finished products..



HIGH TECHNOLOGY
The company, thanks to avantguard machinery, is capable of engineering and producing in rapid time any typology of product relative to the components for motorvehicles.




QUALITY

Officine RISTORI has invested in specialisation courses for personnel as well as measuring and control instruments for raw materials and finished products. The company has become a reference point for products requiring quality certification.
Officine Ristori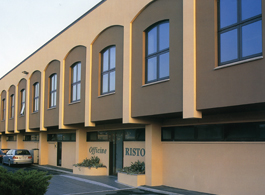 Determination and professional expertise, combined with consistent investment has confirmed the company's leading position among Italian and international metal working industries, satisfying requirements in a market which has become increasingly more demanding in terms of quality and reliability.
Officine Ristori has acquired years of experience and productive expertise in this field, and today it is able to engineer, manufacture and produce all types of components for motor vehicles in extremely rapid production times. All finished products are subject to precision debugging as well as accurate quality controls.